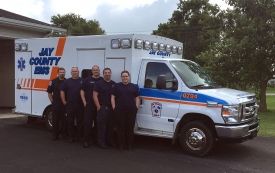 When looking up duties of an Emergency Medical Technician (EMT) or paramedic, you'll find something such as "a person trained to give emergency medical care to people who are seriously ill with the aim of stabilizing them before they are taken to the hospital." However, our local EMTs have taken their duties a step further, in addition to responding to emergency calls, JEMS (Jay Emergency Medical Services) has added follow-up wellness visits to their services.

Eric Moore, JEMS Director, states, "After responding to emergency calls and bringing patients to Jay County or other area hospitals, we often wonder how that person's doing after they receive care. People that we see with strokes, trauma, or maybe an intubated patients, we want to make sure they're doing OK now that they are back home."

This concern for their patients prompted the beginning of follow-up wellness checks. JEMS began this community service back in June and have followed-up with 5 local patients so far. Two weeks after they care for someone with a STEMI (type of heart attack), stroke, intubation, trauma or maybe an elderly person who lives alone and often needs medical attention, a JEMS personnel will visit to see how they are doing. The visits are typically in person but may also be by phone call, and they will check on their wellness, if the patient received their medications, or if they need assistance with anything. The EMT will then assist with the requests or help find additional assistance if needed.

"We recently visited a chest pain patient that we took directly to Ball, and she doing very well at home. She's getting along on her own. It's great to see," continued Moore.

This new service is free of charge, an extension of the services JEMS already offers. Moore hopes it will eventually evolve into a true Community Paramedicine program, which is an emerging field in healthcare that utilizes the services and medical expertise of EMTs and paramedics to serve the community. By making home visits and well checks, these programs are designed to decrease the re-admission rates at hospitals and reduce the number of non-urgent ambulance runs.

"I think this new service offered by JEMS is really great! Our mission at JCH is to provide the highest-quality care and help our community become healthier. This is an extension of that. JEMS has truly embraced the idea of taking care of the Jay County community," notes Dave Hyatt, JCH CEO.

Pictured L to R: Larry Nuckols, Paramedic; Tony Dalrymple, EMT; Eric Moore, Director; Gary Barnett, Assistant Director; Bailey Barnett, Cadet