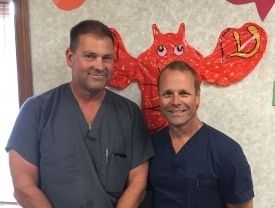 Jay County Hospital would like to congratulate Dr. Frank Vormohr and Dr. Jerry Whetzel on passing their American Board of Family Medicine re-certification. Dr. Vormohr and Dr. Whetzel are medical providers at Jay Family Medicine, a department of Jay County Hospital.

Certification by the American Board of Family Medicine is maintained through successful completion of the Family Medicine Certification process. The Family Medicine Certification process is a continuous process that requires being in compliance with Guidelines for Professionalism Licensure and Personal Conduct including maintaining a valid state medical license at all times, completing certification activities in a timely fashion, and performing successfully on the Family Medicine Certification examination every ten years.

Medical specialty certification in the United States is a voluntary process. While medical licensure sets the minimum competency requirements to diagnose and treat patients, it is not specialty specific. Board certification demonstrates a physician's exceptional expertise in a particular specialty and/or subspecialty of medical practice. Certification by an ABMS Member Board involves a rigorous process of testing and peer evaluation that is designed and administered by specialists in the specific area of medicine.

Dr. Vormohr, is a lifelong Jay County resident and has been a member of the JCH medical staff since 1988. He has served in various positions at JCH, most recently a member of the Medical Executive Committee and Performance Improvement Medical Director. Dr. Vormohr attended Indiana University School of Medicine, and completed his internship and residency at Fort Wayne Medicine Education Program.

Dr. Whetzel joined the JCH medical staff in 2000 and currently serves as the Medical Director of the JCH LifeBridge unit and Cardiac Rehab program. Dr. Whetzel has also lead many public health improvement initiatives in his role as the Jay County Health Officer. He attended the Medical College of Virginia, and completed his internship at Riverside Regional Medical Center and residency at Riverside Family Practice in Newport News, VA.

Please join us in congratulating Dr. Vormohr and Dr. Whetzel!